1E 23.11 Platform and Client
This section lists the highlights of the 23.11 release, along with further platform and client updates.
Application Experience Management (AXM)
Application Experience Management (AXM) is a powerful tool designed to optimize and enhance application performance, leading to improved end-user experience and reduced digital friction. AXM's proactive monitoring capabilities help you identify and address potential performance issues before they escalate, which reduces the number of support tickets and frees up valuable time for both you and your team. AXM supports tracking and insights for both on-device applications and web-based applications, including Core Web Vital tracking via browser plug-in. This results in increased efficiency, and more time for innovation and strategic initiatives.
AXM offers the following key features:
Application monitoring

Advanced dashboard

AXM Score

On-device application data and insights

Web-based application core web vitals and insights.
Note
AXM is only available as a SaaS offering.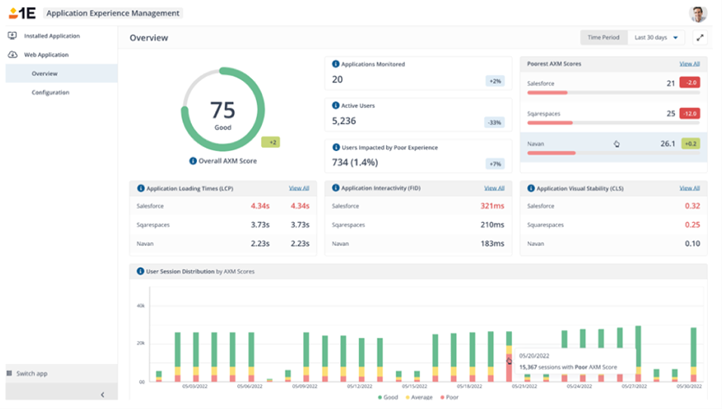 Refer to Application Experience Management for details.
Software Reclaim is a modern software uninstallation tool to manage software costs, provide control, and remove unused software from endpoints. It allows software administrators to assess software usage and in turn addresses three key pain points for businesses:
Cost.

Security.

End-user experience.
Software Reclaim is centered around the following functionalities:
Usage Summary

Reclaim History

Policies

Savings.
Note
Software Reclaim is only available as a SaaS offering. As part of 1E's commitment to being SaaS only, Software Reclaim will replace AppClarity. AppClarity will reach End of Life in early 2024. Entitlement, License Demand Calculation, and Compliance will not be offered under Software Reclaim.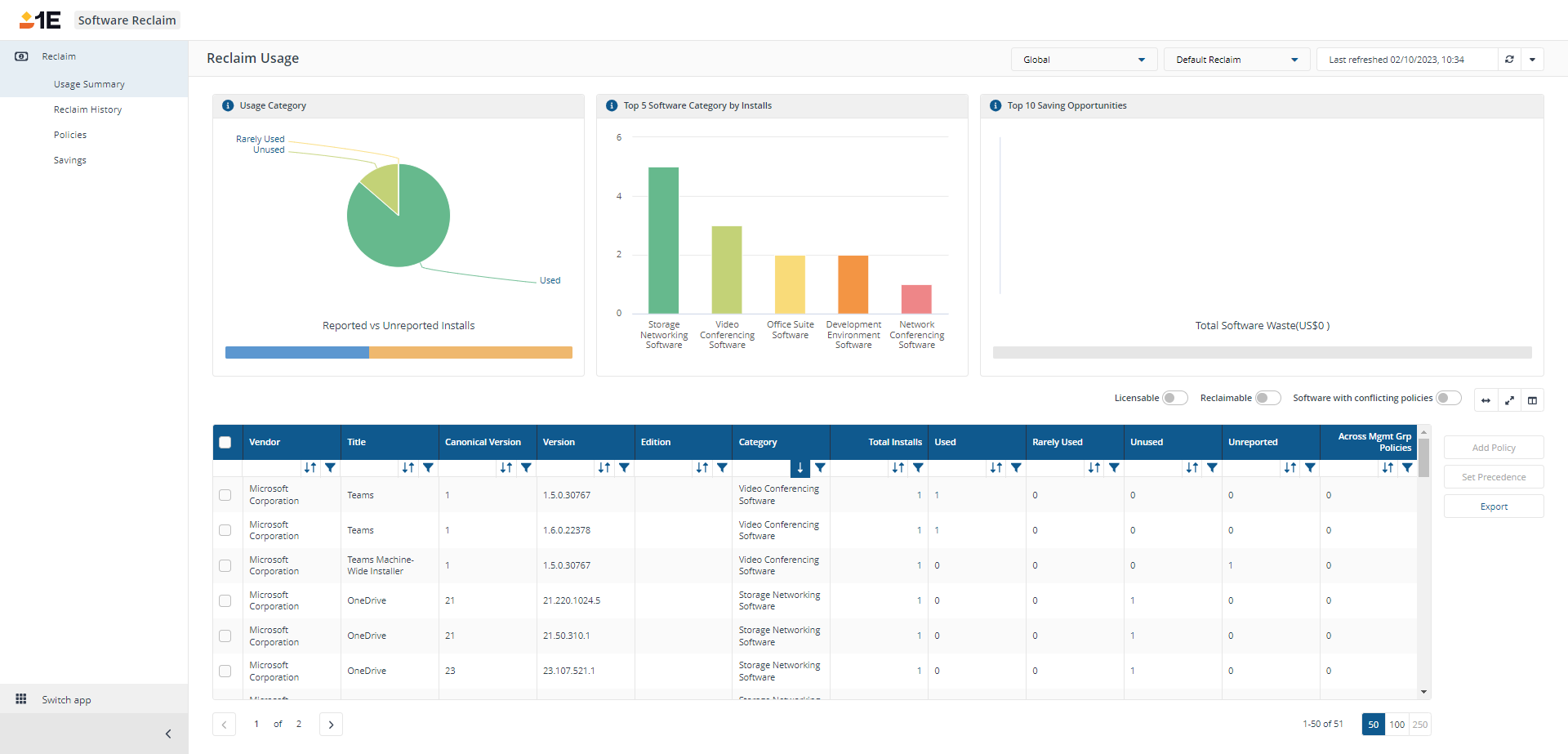 Refer to Software Reclaim for details.
Other features, enhancements, and fixes in this release
Type

Product/Client

Issue ID

Summary

Fix

Authentication Proxy

PLAT-759

Authentication proxy has been updated to dynamically determine the installed virtual site.

Fix

Application Experience Management

PLAT-2296

The 1E-Explorer-TachyonAgent-Set1EClientAgentConfig.xml file has been extended to include Application Management Experience - WebSessions settings.

Enhancement

Client

PLAT-1422

To support 1E AXM, the 1E Client can gather web vitals and usage data for admin-defined web applications using a Chromium browser extension.

Note

This feature is toggled off by default. It can be enabled using the following setting: Module.Interaction.WebSession.Enabled

Enhancement

Client

PLAT-1059

The 1E Client now supports the Beta version of macOS Sonoma.

Fix

Client

PLAT-2272

The 1E Client now correctly associates crashes and hangs to Software.InteractiveSession events if they occur soon after application launch.

Fix

Client

ADO 282616

The missing survey choice icons in 1E Client Interaction have been fixed.

Fix

Client

PLAT-3028

Events visible within 1E Experience Analytics (such as Software installations, crashes, etc.) are no longer duplicated if the 1E Client is not shut down cleanly.
Updates since the last release
Type

Product/Client

Issue ID

Summary

Fix

Endpoint Troubleshooting

PLAT-1149

It is not possible to read the full description in the Product column.

Fix

Endpoint Troubleshooting

PLAT-301

The Load More button under Endpoint Troubleshooting had the following issues which have now been fixed:

Data inconsistency issue (having to refresh the page or switch tabs to see data).

Have the first poll for responses after two seconds, then three, then four, then seven, and then 10 for a maximum of a minute.

Fix any delays if they exist, for example, the Load More button takes a few seconds to appear on the page.

Fix

Endpoint Troubleshooting

PLAT-668

The error reason why the Save button does not work is not displayed to the user.

Fix

Endpoint Troubleshooting

PLAT-667

It is possible to update the schedule from the drill-down page, but the authentication code button is not available.

Fix

Endpoint Troubleshooting

PLAT-665

The placeholder option Contains when editing the Device parameter in Endpoint Troubleshooting was not available.

Fix

Endpoint automation

PLAT-664

Approval link in the email directs to the wrong page.

Fix

Endpoint Troubleshooting

PLAT-663

The Provide authentication code button is visible even after providing the authentication code.

Fix

Endpoint Troubleshooting

PLAT-575

When submitting a question, the following confirmation dialog box should be displayed if the user has not set or saved their parameters:

"You haven't applied some of your instruction parameters yet. Would you like to continue?"

Fix

Client

PLAT-2198

The 1E Client allocates huge chunks of memory if persistent data files are corrupt.

Fix

Client

PLAT-1705

The 1E Content Distribution Branch Service continues to run when the Content Distribution module is disabled in the 1E.Client.conf file.

Fix

Client

PLAT-2199

The 1E Client may stop communicating with the Switch if the message queue fills up with policy requests.

Fix

Client

PLAT-3874

Non-English Windows devices are not collecting disk and network metrics.

Fix

Client

PLAT-439

Security Vulnerability: Elevated Temp Directory Execution in 1E Client. For more information, refer to Published Product Vulnerabilities https://www.1e.com/trust-security-compliance/cve-info/

Fix

Client

PLAT-906

Client restart isn't working reliably but the shutdown part does.

Fix

Client

PLAT-280295

Content Distribution sending device and content registration events with NULL in IpAddr/Subnet to CD.

Fix

Client

PLAT-279838

Content Distribution missing the HSTS header in HTTPS responses.

Fix

Client

ADO 272910

The Content Distribution client crashes because of blank LocalCachePath.

Fix

Client

ADO 283617

The Patch module may cause excessive memory usage growth over time when querying Windows Update Agent for patch metadata.

Fix

Client

ADO 283268

Integer overflow when upserting rows into SoftwareInteraction aggregation tables.

Fix

Client

ADO 282881

Improved mechanism to consider the 1E Client's device interaction data for primary user deduction.
Platform and Client release history information
1E Platform 23.11.1.15

1E Catalog 23.11.1.4

Software Lifecycle Automation 23.11.1.1

Content Distribution 23.11.1.64

Patch Insights 23.11.1.10

Application Experience Management 23.11.1.8

Software Reclaimer 23.11.1.2

Offloading Client 23.11.1.15

1E Authentication Proxy 23.11.1.15

1E Toolkit 23.11.1.15

1E Client (Windows) 23.11.1.118

1E Client (non-Windows) 23.11.1.118

TIMS 23.11.1.118
1E comes with online help that shows you how to install, configure and use the product. Click the following link to view the help:
For support queries, please
The current known issues related to the installation and running of 1E can be found on the Known issues page.
Notice
Post upgrade to 1E 23.11 you may notice that instructions with 1E-PatchSuccess are no longer licensed. Patch Success has been replaced by Patch Insights and your Patch Success instructions can be safely removed.