Nomad ensures that software packages are only ever copied once per branch over the WAN, utilizing local computers as temporary file caches to distribute the software locally. This reduces the bandwidth required for delivering software updates and means that small offices or sites connected by poor network links can receive software updates more reliably.
The Nomad clients with local copies of the package can themselves act as the master if the need arises. This significantly reduces the number of Configuration Manager servers required to manage a Configuration Manager hierarchy, thereby reducing initial and ongoing maintenance costs.
Refer to Deploying software with Configuration Manager for example scenarios about deploying Applications and Packages where Nomad is integrated with Configuration Manager and how you can monitor those deployments using the Nomad app.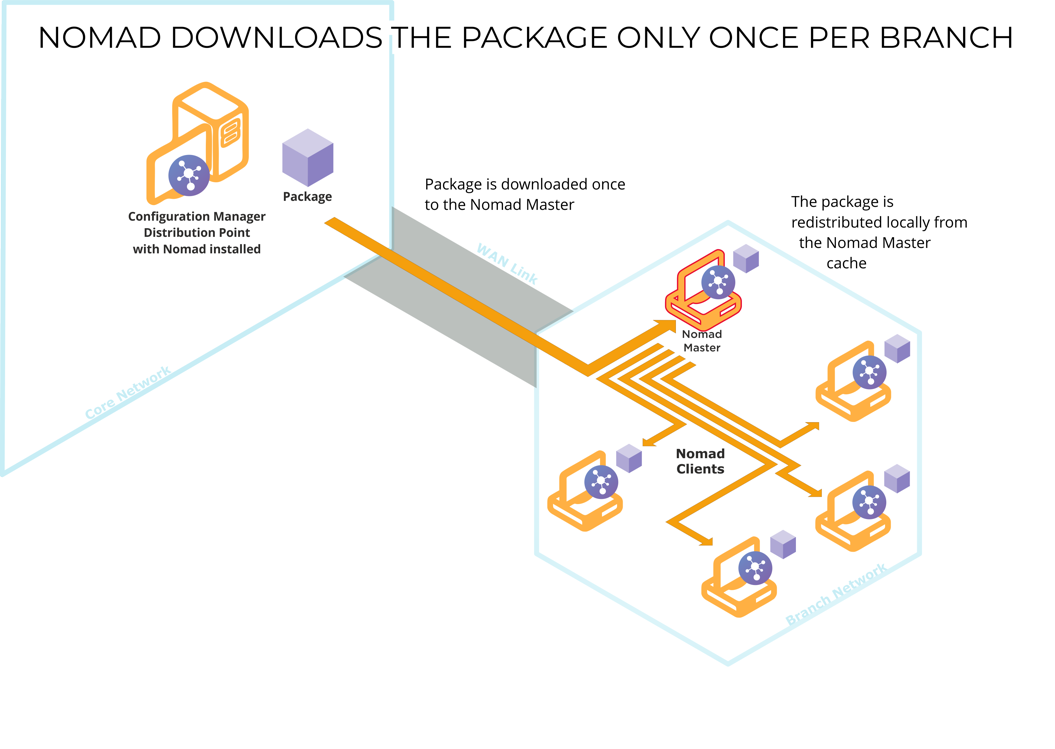 An overview of the Nomad cache including different methods used by Nomad peers to access the cache on the elected master. The Nomad cache is essential to Nomad's download once to branch feature. The cache enables Nomad to hold its downloaded content so that it can be distributed locally to other Nomad peers. The Nomad cache contains downloaded content (such as packages, applications, and software updates) which can vary in size from relative small patches to rather large OS image files.
As outlined above, Nomad combines the use of elections and cached storage to ensure that content is only downloaded once per subnet over the WAN. Further efficiencies can be made by implementing the Single Site Download advanced feature to ensure that downloads over the WAN only occur once per site.
Note
Refer to Nomad cache for more details, including peer access methods, switching between wireless and wired network connections and multi-forest environments.
Election rules and master elections
When you install Nomad on computers within a remote branch, part of the installation includes a service called NomadBranch.exe. This service runs continuously on the Nomad clients and manages the process of electing masters and transfers the download between peers.
As a package is deployed to computers within a remote branch, one branch Configuration Manager client is elected as the Nomad master. This client downloads the package to its local cache and the other clients on the remote branch IP subnet uses this local master as an alternative distribution point. The other clients can either connect to the local master over HTTP[S] or they connect to its cache folder over Microsoft Server Message Block (SMB) protocol and download the package to their own cache.
Note
Standard Configuration Manager behavior remains unchanged when using Nomad. Nomad clients will not start to download the package until they have received the Configuration Manager deployment, subject to the usual polling cycle.
However, if this elected master became unavailable, the Nomad clients hold an election to nominate another master. The election process starts when the master is discovered to be unavailable.
A master is elected based on election rules including percentage of the package already downloaded and election weighting. Any one of the remote Nomad clients can be elected as a master, even when they are halfway through downloading a package. In this way, software is downloaded once over the WAN and distributed locally.
Cached packages are kept on the local computer. If disk space becomes restricted, a separate automatic cache cleaning process is initiated which deletes packages cached by the peer-to-peer process.