What you will need to prepare in advance of implementing PXE Everywhere in your network. Typically, these are tasks that may take some time to organize, depending on how your organization works. A comprehensive list of installation and software requirements is provided in Requirements.
If you are upgrading PXE Everywhere, please review this page and then refer to Upgrading PXE Everywhere.
When implementing PXE Everywhere, it must be the only PXE solution on each LAN used by your PXE clients. This means any existing PXE services on these LANs must be disabled, and any existing DHCP relays (IP helpers) that forward requests to PXE servers must also be disabled. DHCP relays (IP helpers) used for DHCP requests should be kept.
A working DHCP implementation is required. You must remove DHCP Scope Options (66, 67) you may have previously used in native Configuration Manager because they will conflict with PXE Everywhere.
By default, the Agent listens on port 67, but will listen instead on port 2067 if the Agent has been configured to run in an environment that has DHCP Snooping enabled. If Agents use a port other than 67, then support for DHCP Snooping option is assumed, and PXE Everywhere Responders must be configured to use that port. If DHCP Snooping is not being used, then Agents must use port 67, and you do not need to install Responders.
Ensure client and network firewalls are configured to support Requirements: Firewall Ports .
One or more PXE Everywhere Responders are required when network hardware or design prevents local DHCP traffic, for example when DHCP Snooping has been enabled. Your network devices may have other settings enabled which also prevent local DHCP. Therefore, you should test your network before proceeding and determine if you can reconfigure your network and/or install Responders.
Tip
One method of testing to see if local DHCP is blocked, is to put a network packet capture tool like Wireshark on a device you intend to use as PXE Everywhere Agent, start a capture and do a DHCP release/renew from another client on the same subnet. The capture tool must be in promiscuous mode. If you can see the DHCP traffic in the packet capture, then you probably do not need a Responder. If you don't see any DHCP traffic then you will need to consider installing Responders.
If you decide to install PXE Everywhere Responders, you will need to configure network switches to allow the PXE Everywhere Responder to receive and respond to PXE requests on port 67. Typically, this requires configuring the switch port connected to the router as "trusted". Refer to the switch manufacturer's documentation for more details.
You will also need to configure DHCP Relays (IP helpers) on routers to forward DHCP/PXE packets to the PXE Everywhere Responder(s) in addition to any DHCP Relays you already have configured for the DHCP server(s).
PXE Everywhere Agents and Responders must use a common port, which is 2067 by default. All Agents and Responders must use the same port.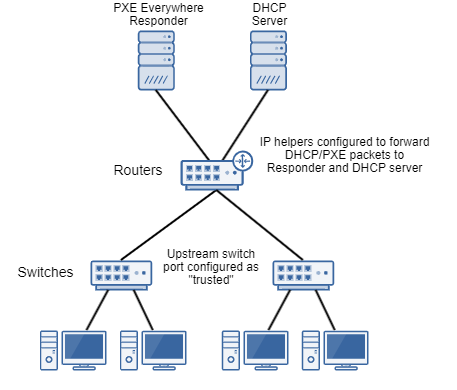 Infrastructure requirements